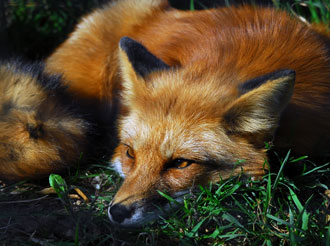 If a large marsupial carnivore such as the thylacine can become extinct over a relative short period of time, why can't we use similar methods to eradicate the red fox? More...
Student activities, interactive scenarios and further reading all reinforce several strands of learning including:
Life and Living
Working Scientifically
Science and Society
Science at Work
Sustainability of Life and Wise Resource Use
Time, Continuity and Change
Place and Space
Natural and Social Systems
Environments
Care of Places
Natural and Social Systems
Download the Teacher guide powerpoint presentation (6 Mb .pptx file). This is a ready to go presentation complete with notes if you want to use it in class. Other file formats below.
Teacher guide (6Mb .pptx file)
Teacher guide (6Mb .ppt file)
Teacher guide (500 Mb PDF)


Units
Unit 1
Unit 2
Unit 3
Unit 4
The word 'pest' is generally used to describe an animal that causes serious damage to a valued resource. Such a pest may be destructive, a nuisance, noisy or simply not wanted. A pest may be an animal that was originally introduced by humans to new lands - this is particularly the case in Australia. Or, it may be a native animal such as a kangaroo, possum or parrot.
It is important to note that people decide whether an animal is a pest. What is one person's pest may be a valuable resource to another. For example, recreational hunters and meat processors may regard the feral pig as a valued resource rather than a pest. Others believe that feral pigs are a threat to the environment and agriculture. Such diversity of opinion is one of the main reasons that pest control has had varying success. More...